Every child has the right to have a good life. Unfortunately, not all children have this right. It might be shocking to you but even in the Netherlands more than 100,000 children cannot be children. They are seriously ill, live in an unstable home situation or do not get a chance to develop. Outside the Netherlands millions of children grow up without any good basis.
Buy a ticket >>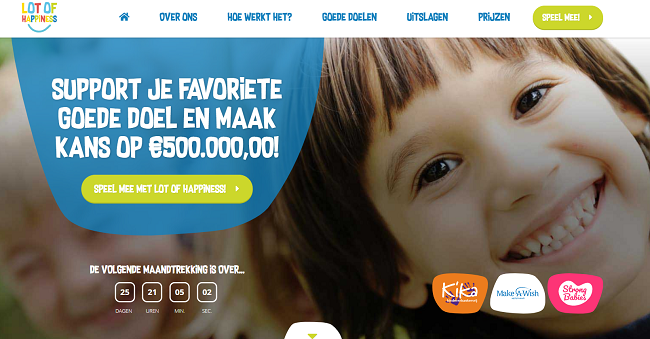 A better life for every child
The Lot of Happiness lottery wants to give children a better life by working together with supporters and charities. Supporting together is more fun and easier than alone. With as much people as possible they want to make a difference for children in the Netherlands and abroad. Making children happy is the main goal, not just in the Netherlands but everywhere in the world.
The charity always wins
Lot of Happiness is an independent lottery organization under supervision of the Gaming Authority. It generates extra funds for charities in the Netherlands for every draw. It does so by organizing a very exciting and innovative lottery. A part of the revenue of this lottery is donated to charity, and Lot of Happiness finds it important that its supporters know exactly to which charity at least 50 percent of their investment goes. So with this lottery, the charity always wins and the participants have a chance on winning fantastic prizes. Sounds great, doesn't it?
Fairshare Netherlands
Lot of Happiness is part of Fairshare Netherlands, which was founded in 2015 by a team of experienced and enthusiastic lottery experts. The company wants to become the leading provider of games of chance in the Netherlands. Faire Netherlands is an independent lottery organization that raises extra funds for charities in the Netherlands by organizing innovative charities lotteries. Lot of Happiness is organized under the license label 10339 of Faireshare Netherlands.
Health, healing and safety for children
As a participant of Lot of Happiness you support multiple charities that provide better health, more healing and safety for children everywhere on the planet. It gives them a higher change of growth and fair opportunities. The charities are supported with the revenue of the Lot of Happiness lottery, which states that not the prizes but the charities and supporters are priority number 1. Every draw, the lottery and its participants make a difference for children.