Bets.io is a gambling site that only accepts cryptocurrency payments. It is not just one of the staking platforms that accept crypto, but also one of the only gambling sites that only allows bets and payments with crypto. Customers who use cryptocurrencies benefit from the speed and security of coin payments, as well as the perks.
Welcomebonus up to 1 bitcoin and 100 free spins.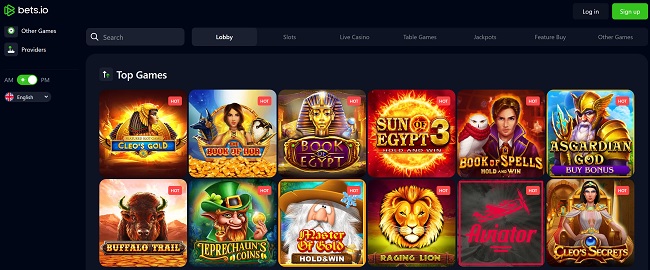 About Bets.io
Bets.io clients can deposit and withdraw with seven cryptocurrencies, including Bitcoin, Bitcoin Cash, Litecoin, Ethereum, Tether, Dogecoin, and Ripple. These coins are the most common in gambling, so all players are likely to find a coin they are familiar with and convenient for them to use.
The Bets.io online casino has another perk for gamblers. The minimum deposit is very low, at 0.0001 BTC, 0.001 BCH, 1 DOGE, 0.01 ETH, 0.01 LTC, 0.01 USDT, or 0.01 XRP.
Some gambling sites offer a Pay And Play system, which is a simpler verification process. Bets.io online casino also offers this, and if you are aware of this system, you will be happy to know that it is used at this casino site as well. Some Bitcoin casinos also use this system, so let us explain how it works and why it is good for players.
The country where a person lives, their age, and identity verification are some of the requirements that new casino players have to go through. This is necessary to ensure that players can play in a casino safely and responsibly, in line with international gambling laws and responsible gambling regulations. Players have to verify their payment method, such as a credit card, to prove ownership.
When you make a crypto wallet, you pass verification. That is why adding your Bitcoin wallet to your Bets.io account is enough to play games and make payments at most casinos online. In some cases, a large withdrawal may require documents , which the casino can then check and confirm your data. The Bets.io digital currency casino can decide to require documents, and have the right to check and verify customer data.
Bets.io is one of the very few crypto gambling sites that will allow players to use multiple cryptocurrencies. Players can bet with any of the 7 options using any number of crypto coins they want. However, most gambling sites only allow clients to use their national currency. Players cant change their currency, and sites that do offer this option often levy a commission fee.
Bets.io offers more than just payment options, Betts. The games that can be played for real money are just as important, if not more so. Bitcoin casino players are looking for fun and relaxation, and while they might win, it is a bonus for them. Bets.io offers over 3000 different game categories. Players can enjoy live casino games, popular card games, different roulette variations, and wonderful slot machines.
Betting.io has a professional support team that is available to answer questions about crypto gambling anytime. The support team is online 24/7/365 and ready to help players who need information.
We have a cashback system, as well as a reliable Curacao license. We also have a dark mode on the site, to make it more user friendly and appealing.
Bets.io offers many benefits for gamblers, and we are going to explain all the perks that you can enjoy on our website.
Bets.io offers promotions
Bets.io is a crypto casino that offers a promotional offer to its players. The Cashback promo gives players a reason and opportunity to play more at the casino.
Players can get up to 20% of their deposit back as bonus money. If a player loses 20 USDT or more in a day, or deposits at least 20 USDT, the online casino will give back between 10% and 20% of the players deposit back as bonus funds.
The minimum deposit amount for other cryptocurrencies is determined by the exchange rate on Bets.io casino site. The rates are listed on the casinos Terms & Conditions page. If you bet more, you will get more returned to you. Play more games, bet more, win back your money, and try out new games. That is how the game works.
Players have three days to claim their bonus, and one week to use it. The bonus code must be wagered three times before it can be withdrawn.
Game collection Betsio crypto site
Bets.io offers a game collection where players can try their luck at different games of chance.
The games offered at a casino are what all players who are considering playing there look at first. The layout and design of a site make the first impression on visitors, but game options is what casinos that players are unfamiliar with want to know about.
If a casino has a good selection of games, users are more likely to play for real money on the site. It doesnt matter if the site is licensed and secure, or has good bonuses and support. If there are only a few game selections, a user is more likely to go somewhere else. People who like the games on a gambling site will bet money on them. People who dont like the games probably wont waste their money betting there.
People have different tastes when it comes to online gaming, and the best staking platforms should offer many options. Client come to these platforms looking for reliable software companies, and good quality games.
Bet.sio is an online crypto casino that can delight the pickiest of players. The website features over 3000 different game titles of all types and themes. The games have been produced by tried and true software companies, and newer developers as well. Play Bitcoin slots and other table games from different suppliers.
There are many game categories on the left sidebar, or on the home page of Bets.io. You can select which type of game you want to play: Slots, Live casino, Table games, Jackpots, Special Feature games, or other titles. Additionally, the Bets.io website has a Providers page for if you want to play games made by a particular developer.
Check out the Top Games tab to see the most popular games on Bets.io. See what people are talking about, and try some of the games yourself. If you have already played many of the popular games, check out the New Games page for the latest releases.
In Bets.io you can explore all the games in the library and pick out your favorites.
Slots
There are over 2500 games on the Bets.io website, including modern, high-quality games with great graphics and animations. Fruit slots are also available on the site, among many other Bitcoin casino games. Slot machines are one of the most popular casino games in the Bitcoin gambling market, thanks to the ever-growing technologies and virtual format.
If you dont have any particular game in mind, scroll through the list and find one that interests you. Or, if you know the name of a game you want, type it in the search bar. We will give you some examples of great games that have been released recently.
There are 5 magical books available: Book of Spells, Wizarding Wins, Witch Treasures, Sweet Alchemy, and Book of Merlin.
There are five games in the Novomatic Arabian Nights series: Book of the Divine, Guises of Dracula, Legend of Atlantis, Theseus Rises, and Arabian Spins.
Choose which team you will play on in Trojan Tales, Guardians of Valhalla, Power of Gods, Throne of Camelot, and Totems of Gold.
In Farm Ville, Lucies Cats, Bamboo Grove, Aloha Tiki Bar, and Fruit Bat Crazy, you can relax.
There are many beautiful places in Jade Valley, including the Butterfly Lovers, Goddess of Lotus, Princess of the Sky, and Frozen Mirror. Visit these locations in Bitcoin casino games.
Bet.io offers plenty of great Bitcoin slots. Take your time and play them in the website.
Jackpots Betsio
Bitcoin casino games that offer the biggest prizes have jackpot games. Players who want to take a big risk can play these slot machines to try and win huge amounts of money.
Bets.io is a Bitcoin gambling site that features over 300 high-quality slot games. The games have accumulative prize pools, and include titles like Aztec Coins, Hot Cash, Wolf Power, Lucky Cat, Joker Coins, Dragon Kings, and Pirate's Map. If the RNG is on your side, it can make some magic happen when you start to spin the reels.
Table games are games that are played on a table.
Bets.io has a huge game library, including over 150 titles. Card games, roulette games, and other games can be found there. There are lots of different gaming options, as well as different versions of the same game. Players who want to play in a Bitcoin casino that will keep them on the edge of their seats should check out Bets.io table games.
Game rules are often attached to the paytable in game variations. Once you understand the game variations, they all offer their own little twists and added entertainment. There is no reason to worry as the rules are usually explained in detail on the game.
Over 150 games can be found at Bets.io, including Blackjack, Poker, and Roulette tables. Players can gamble at these tables using bets. Find the best bitcoin casino game at Bets.io.
In a live casino, people can play games in real time with other people.
With more than 250 games, Bets.io offers a wide selection of live dealer Bitcoin casino games. These games include Roulette, Blackjack, Crazy Time, Football Studio, Monopoly, Dream Catcher, and Lightning Dice. If you want a more social experience, try any of our Live Dealer table games. With HD webcams, you can see the action unfolding in real time and get real-time results for every round.